2016 Scott Brown Memorial Scholarship Recipients
Sidney Kuhn
Scholarship Committee Chair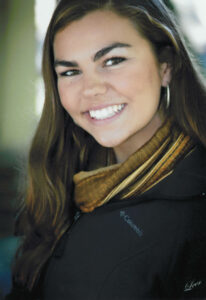 On behalf of the SHAP Scholarship Committee, I am pleased to announce the 2016 recipients of the Scott Brown Memorial Scholarship. From several well-qualified applicants, the committee chose two outstanding individuals, Mr. Robert Hricko and Ms. Nettie Baugher, for the award of a $1000 scholarship to each for the 2016-2017 academic year. Both students were also awarded the scholarships for the 2015-2016 academic year, and SHAP is proud to continue to support these two deserving individuals.
The scholarship is named in memory of Scott Brown, a fruit grower who was known for his encouragement and leadership in the fruit industry and his own community. Scott was an active member of the Research and Endowment Fund committees of SHAP and president of the York Fruit Growers Association. Funding for the scholarship was provided by a $10,000 donation to the SHAP Endowment Fund in memory of Scott by his parents, Stan and Nona Brown, and contributions from other SHAP members totaling over $2,000.
Robert Hricko is completing his sophomore year at Penn State University, majoring in Plant Sciences with an Agroecology/Horticulture option. He is the son of Michael and Julie Hricko of Nicholson, PA. Through the variety of tasks he has performed at his grandparent's 100 acre fruit operation in Elysburg, PA and as a culinary apprentice at South Food District at Penn State, Robert has learned much about the horticulture and food industry. Robert's outstanding GPA, many merit based scholarships and being named to the Dean's List are evidence of his strong academic record. Robert has participated in a wide variety of extracurricular on-campus activities including the State College Crop Mobs events, as historian of the Penn State Horticulture Club, and membership in the Woodsmen Team and the Newman Club. Outside of school, Robert's participation in civic activities include achieving many leadership roles in the Boy Scouts of America and community service through his church. Upon graduation, Robert plans to return to his family's orchard operation and hopes to have the opportunity to educate the community and consumers about the importance of the horticulture industry and knowing how their food is produced.
Nettie Baugher is completing her senior year at Penn State University, majoring in Plant Science with an Agroecology option. She is the daughter of Chris and Cindy Baugher of Aspers, PA. Nettie has a strong background in the fruit industry through work in her family's orchard and nursery operation, attending farmers markets with a neighbor grower, jobs with the Fruit Research and Extension Center and the Philadelphia Orchard Project and an externship with AgChoice Farm Credit. Nettie has an outstanding academic record, as evidenced by her strong GPA, academic based scholarships, and acceptance into the Schreyer Honors College. The many campus and academic activities that Nettie has participated in include the Collegiate Farm Bureau where she met with legislators to discuss current issues in the agriculture industry, membership in the Penn State Ag Advocates program, and being chosen as an AgChoice Scholar where she participated in agribusiness-oriented leadership sessions. In addition, Nettie has donated much time to civic activities such as Thon, Penn State's philanthropic dance marathon to end pediatric cancer and fundraising for the Ronald McDonald House. Upon graduation, Nettie plans to gain experience in tree fruit variety breeding and selection and eventually return to the family farm, Adams County Nursery.
The letters of recommendation from advisors, teachers, professors and industry leaders for Nettie and Robert certainly recognized the value of their contributions and involvements during their college careers. We look forward to the success of these two individuals as future leaders in the Pennsylvania fruit industry!
The Scholarship Committee encourages others interested in pursuing a career in the PA fruit industry to apply for the Scott Brown Memorial Scholarship in 2017. To receive more information about the Scott Brown Memorial Scholarship or an application, contact the State Horticultural Society of Pennsylvania, Maureen Irvin, Executive Secretary, 480 Mountain Road, Orrtanna, PA 17353; phone (717) 677-4184; or email  shap@embarqmail.com. An application is also posted on the SHAP website at www.shaponline.org.